Call Us at 319-551-8692 to request a pre-listing presentation.
Selling your home can be a large undertaking. We will be with you every step of the way, communicating each detail thoroughly.
What sells a home?
Desirable location
Compelling price
Good condition
Home's features
Maximum exposure to willing & able buyers
Seller & REALTOR® with common goals
Why don't some homes sell?
Limited access to property

Buyers

 see significant 

defects

 with no 

price mod

ification

Unprofessional or inexperienced real estate agent
Poor promotion to buyers who are ready to purchase
Unmotivated seller
How can a REALTOR® help?
Enhance the home's value through professional presentation (repairs, staging, flyers, photos, remedies)
Develop pricing strategy to meet your goals
Provide maximum marketing exposure to qualified buyers
Place you in the strongest negotiating position
Maintain effective communications with you, potential buyers and other real estate agents
Turn an offer into cash at closing!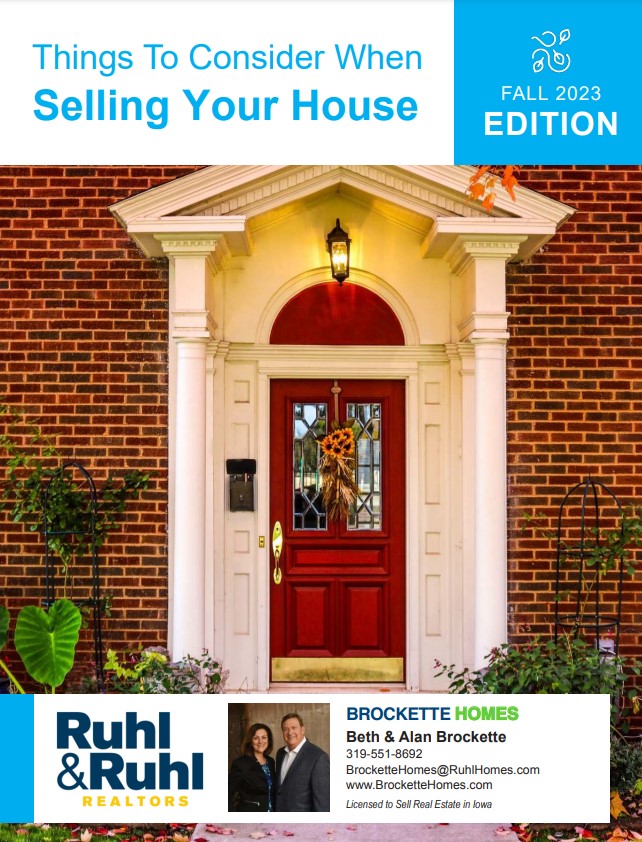 Click the image to download the current Sellers Guide.
Visit our "Facts and Trends" page to see the archive of past issues.
Before choosing a real estate agent, take these characteristics into consideration…Track RecordYour agent should have a proven record that meets...
Request a free Home Valuation
Request a FREE Home Valuation and Market Analysis. If you're considering selling your home or just wondering what the current value is, contact us at the link below and we'll be in touch!