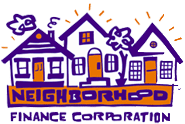 Have you heard about the Neighborhood Finance Corporation? It offers a lending program to help revitalize Cedar Rapids neighborhoods. Go to
Neighborhoodfinance.org
for details.
According to the website, its mission is to revitalize neighborhoods through a lending program with no maximum income for existing homeowners, as well as home buyers. A partnership has been formed with neighborhood leaders, local government, lenders and the business community.
If you love one of the targeted neighborhoods, but the home you're interested in is going to need some "love", you can apply for this program and roll repair costs into your mortgage!  Every loan has a repayable loan and a 5-year forgivable loan up to $10,000 for the repairs. 
Your first step is to talk with a REALTOR® who can discuss with you your hopes and dreams. If this program is the right fit for you, go to the NFC website and apply on-line. The process to close takes a little longer than the typical 30-45 days, but over the past year, loans have closed in no more than 60 days.
Don't let older mechanicals, deferred maintenance or lack of updates keep you from living in the neighborhood that best suits your lifestyle.